A few months ago I jumped back into the world of RC. This time though, I stayed with the relatively cheap hobby of RC Trucks and put the Heli hobby on the back-burner. Especially since the large (90 Size) helis no longer have that WOW factor seeing as everyone has an electric big box store heli now.
But I digress.
So, a while back I picked up a used Traxxas Slash 4×4 Platinum. Some guy was getting out of the hobby and decided to sell Everything in one shot. As part of the deal I got the Slash 4×4, Spektrum DX3R radio, a pretty kick-ass Stanley FatMax Toolbox and a countless number of replacement parts, receivers, tools and supplies. The only thing I needed was a few LiPo batteries to get me going.
Originally I was using a Bantam 501DX 5A Charger that I purchased years ago when LiPo's first came to the RC world. Due to the limited charge speed of 5 amps there was a lot of down time between races while I waited for the batteries to charge.
I needed something better. I needed the ability to charge multiple batteries at once and the ability to charge high capacity batteries relatively quickly. When I started researching a decent LiPo charger, I quickly was overwhelmed by the sheer number of chargers available on the market. From simple plug-in and forget chargers to sophisticated chargers that can charge 6 batteries at once with programmable features and other do-dads.
Due to the fact that I was out of the hobby for many years, I decided to stick to a company name that I knew. Enter the Hitec Ultima X2. Hitec has been in the RC industry for as long as I remember. So at least I knew I was getting a decent product .
The Hitec Ultima X2 is a dual DC charger that can charge batteries up to 10A per port.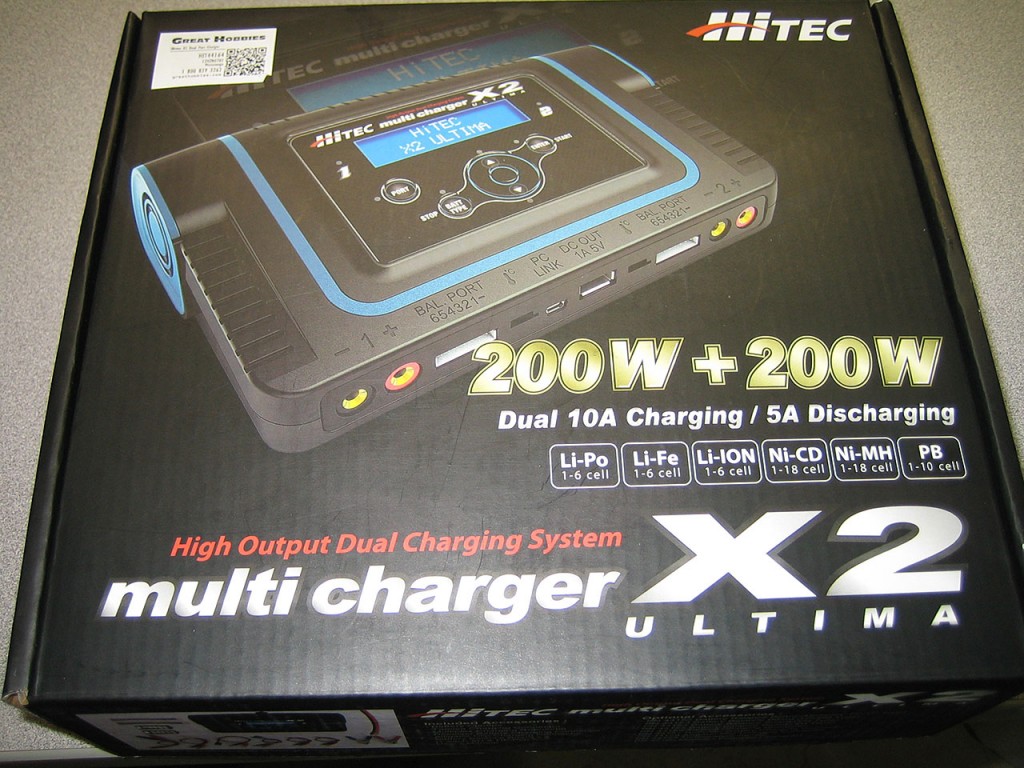 The charge comes with most common connectors for batteries, but unfortunately it does not come with Traxxas connectors. Also included are two LiPo balancer breakout boards and aligator clamp adapters for the banana plug power connectors.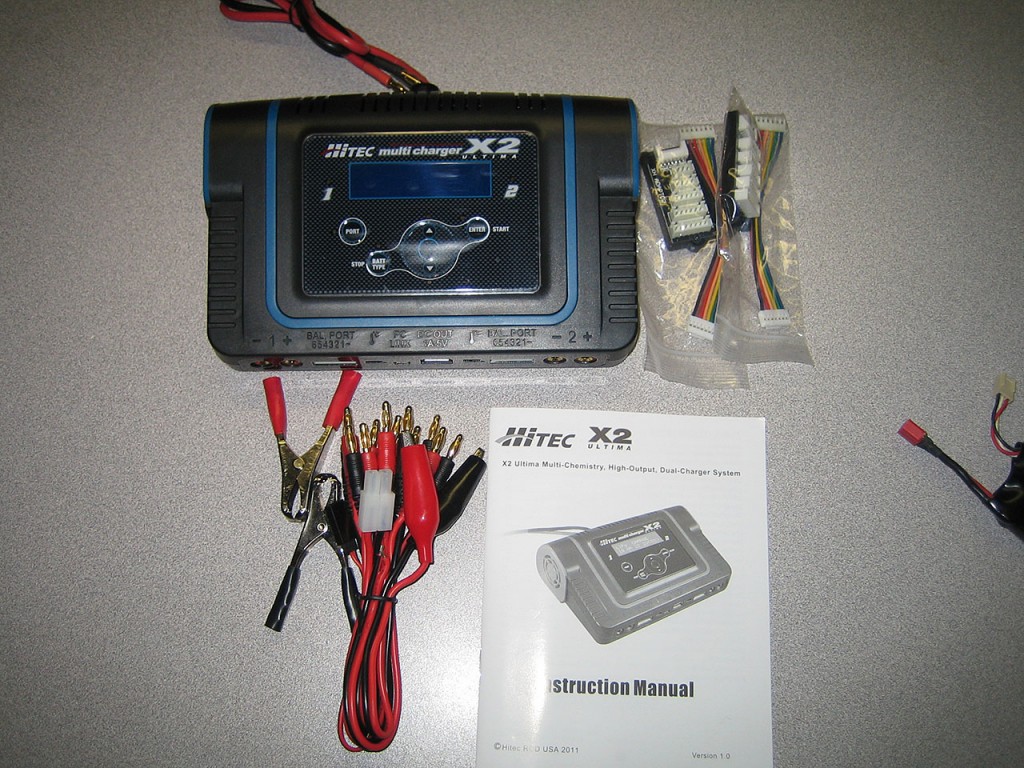 The unit supports external temperature sensors for charging batteries. Comes with a USB interface to hook up to a computer and use with Hitec's battery charge monitoring software. And a USB Charge jack which surprisingly only offers 1A of current capacity. This makes it pretty much useless for most devices nowadays that require at least 1.4A.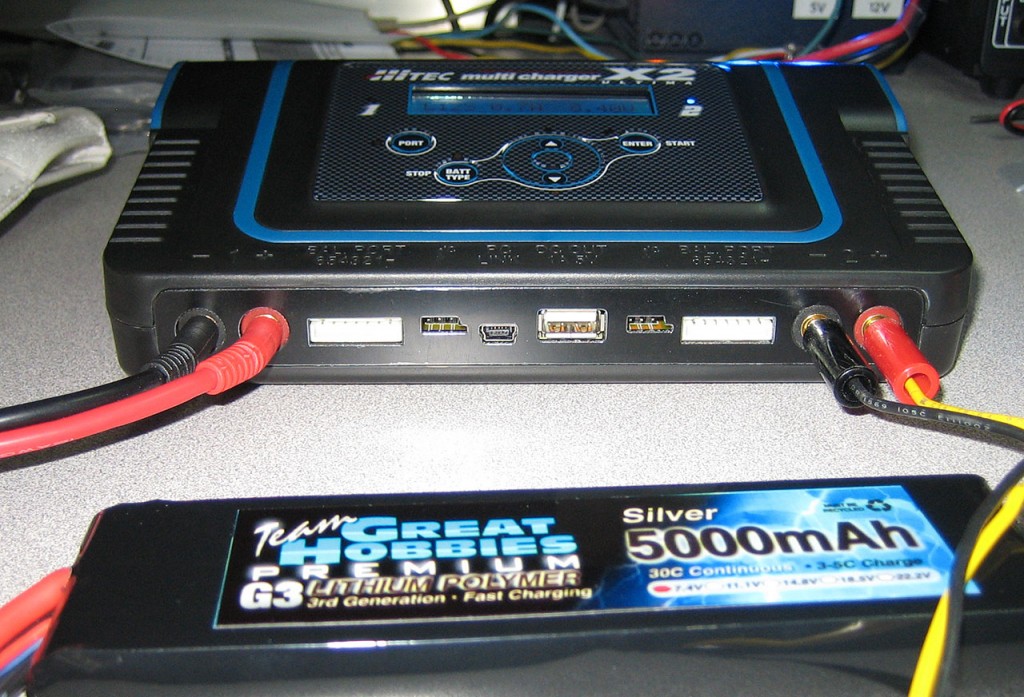 The display/programming interface is identical to the Bantam Charger I've had for years, leading me to believe that the processor for the charger is made by the same company and it's been cranking out the same chip for years. I guess the old adage still goes, if It ain't broke, don't fix it.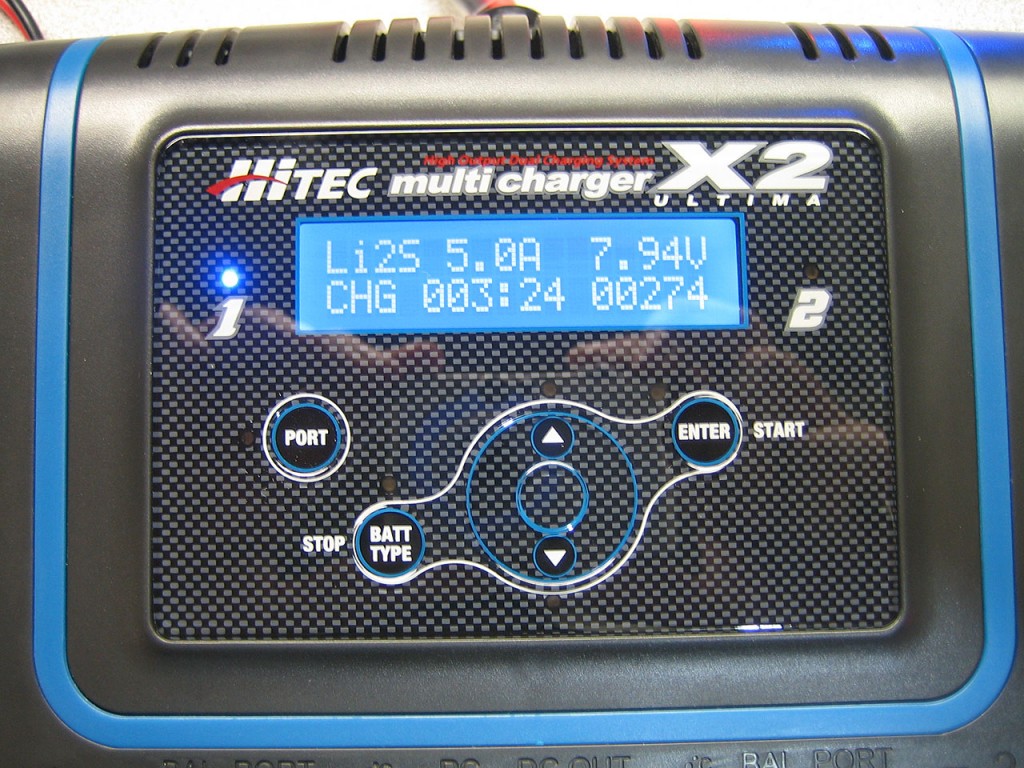 Overall the charger is a great buy. The ability to fast charge multiple batteries simultaneously is a great feature. At 20A maximum draw one does have to be careful to not completely drain the car battery if using it to power the charger. I recommend leaving the engine running while charging or else you might need a jump.
I might look to buy a small Honda generator in the future if I find that I'm heavily into this hobby. But then again, if I'm getting into it as I got into RC Helis and Airplanes, this could mean big $$ in the future.