The time has finally come to move on from my trusty Denon AVR-4308CI to something more up-to-date.
To go back a bit, last weekend I finally pulled the trigger on a 3D TV. A local store had a clearance sale on the LG 65LW6500 Passive 3D Real3D LED TV and I've been looking for a deal for a while. I've never liked the shutter glass 3D TV's due to the flicker which I can see. After only a few minutes watching a show I was already starting to get a headache. The LG's Passive 3D technology absolutely blew me away. It's just like watching a 3D movie at the theater, no flicker and no brightness loss.
One of the reasons why I wanted to get the 3D TV is due to DirecTV's 3D broadcasts. Watching sports in 3D really does add an extra dimension. Unfortunately the DirecTV box kept reporting that my TV does not support 3D and would not let me to tune to the 3D Channels. As it turns out that problem was the Denon as it is only HDMI 1.3a compatible and does not support pure pass-through. Plugging the DirecTV box directly into the TV worked right away.
To fully utilize the 3D TV's capabilities, I needed an new A/V Receiver that support HDMI 1.4. I've been out of the Audio scene for a while since I finally built a system I was happy with. So, I had to do some serious research.
Because I'm already running a couple of Power Amps (Emotiva XPA-5 and Emotiva XPA-3), I no longer required a receiver that provides oodles of power, after all, the Denon only ever drove the center channel.
After a bit of research, turns out that that I couldn't have my cake and eat it to. I could either go for cheaper Pre-Processor with no amplifier capabilities, which would require an additional amp to drive the center, or get a higher-end A/V receiver if I wanted all the features I was looking for (EQ, On-Screen GUI, etc).
I've narrowed my search to four major brands: Denon, Yamaha, Marantz and Onkyo. The Onkyo route was quickly discarded as I just could not feel the look and feel of the receivers. The Marantz receivers are pretty much just re-branded Denon receivers (same company) with a price premium. So I was down to two manufacturers, Denon and Yamaha.
Specifically I was looking at Denon AVR-3312CI, AVR-3313CI or Yamaha RX-A1010, RX-A2010. Once I started reading more about the Yamaha's relatively new Aventage line, it came quickly apparent that it was the route I wanted to go.
So I hit the classifieds, Kijiji and Canuck Audio Mart. Within only few hours I located a few sellers that had the receivers I was looking for. Few emails back and forth and couple of days and I come home with a new Yamaha RX-A2010. Saved a nice bundle over retail too.
My trusty Denon. I will miss this receiver. It sounds absolutely great and with gobs of power, the sound was extremely clean. At one time this was Denon's top-shelf product. Ultimately, it'll end up on Kijij or Canuck Audio Mart for sale. Hopefully someone will give it a good home.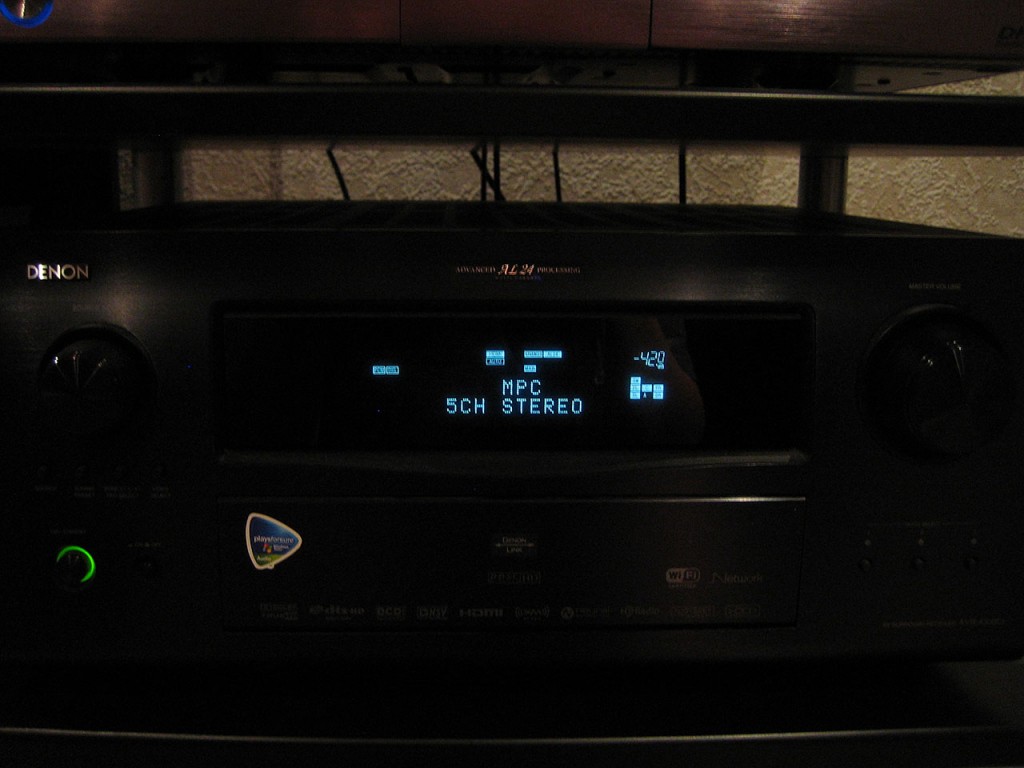 The Denon and the Yamaha side by side. Not surprisingly, the Yamaha is slightly larger than the Denon. Even though both receivers are rated at 140W/channel, The Yamaha provides slightly more power as it drives 9 channels vs the Denon's 7 channels, though I'm pretty sure both companies slightly over-rate the power ratings anyways.
I was suprised to find out that the Yamaha actually supports 2ohm speaker loads.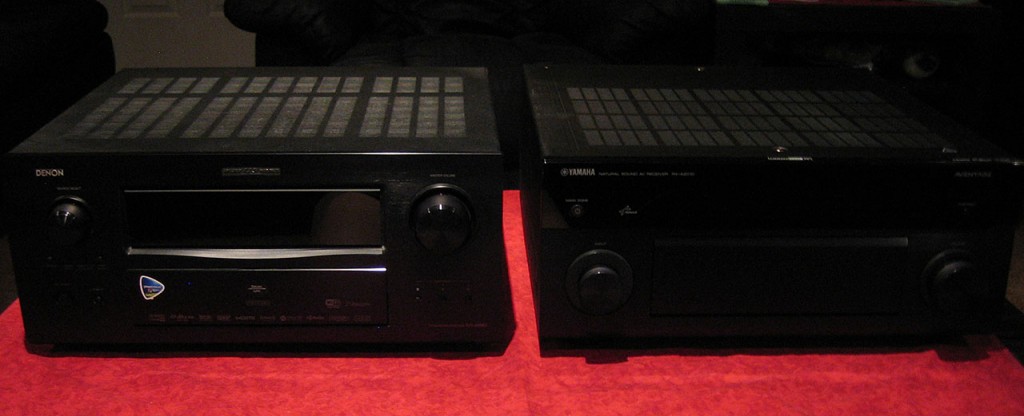 The remotes from each receiver. Both receivers use two remotes for operation. Though I prefer the Denon route having two normally sized remotes rather than the comically gigantic remote that Yamaha provides with their receiver. It's not really important though, for the most part I use a Logitech Harmony One for all my operations.

It only took a few minutes to connect the Yamaha receiver in place of the Denon. I only have 4 audio/video sources and all speakers (except center) are handled by the power amps.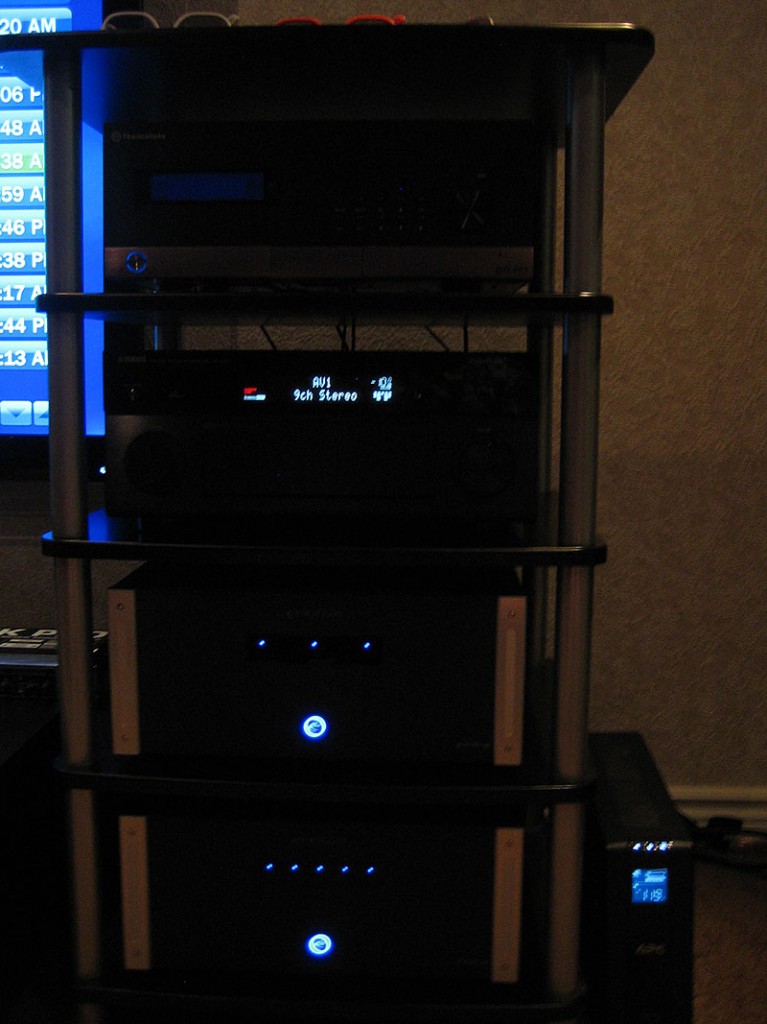 I spent about an hour configuring the receiver. I've yet to run room calibration on it due to it being late and the rest of the family already in bed. Hopefully tomorrow I'll have the amp fully set up though I'm sure I'll be tweaking the settings for weeks to come.